Want to get the bugs off? Get BUG OFF!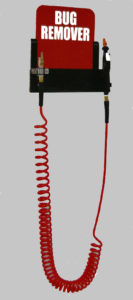 System includes:
Heated wall mounted unit with heat shield
Single Prep Area Wall Mounted Assembly – Dimension; 12in W x 13in H x 5in D.
Features:
Capable of running (2) spray applicators for faster line speeds
Load and run more cars – no dwell time necessary
Helps clean eyebrows on windshields
Electrical Requirements:
240v single phase
WATCH how this car wash owner uses our equipment (BUG OFF, CTA'S  and WHEEL BLASTER) to get the job done!

Need more information? Contact us at
412-872-4149 or email thecobrasystem@comcast.net