Why The Cobra System?
Car wash operators are now realizing the importance of heating chemicals for better cleaning therefore reducing labor and converting that back to your bottom line! The Cobra System was engineered and scientifically proven to give your chemicals that heated 1-2 punch for the best results possible with the chemicals you're using. Voted "Most Innovative Technology" at the 2010 NRCC Trade Show, the system is specifically designed and constructed of 100% stainless steel to outlast any equipment in your tunnel. The air induced foaming Vee -Jet nozzle with precise "Spray like a Cobra" action, allows you and your customers to see action in cleaning immediately.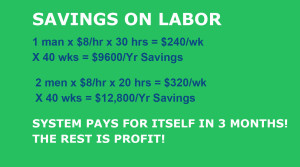 Research has shown every 10 degree rise in temperature, your cleaners penetrate better because heat opens up the pores of the dirt and grime to make the cleaners you use most effective.
The Cobra System® does just that!
All Cobra System Equipment applies product heated at the point of application to the vehicle's surface.
The Cobra System operates more economically and is built to outlast and
perform better than any heated applicator on the market today!
GUARANTEED
How was The Cobra System Created?
There is a tool man in town whose name is the same as the one from the hit TV series "Home Improvement", Tim Taylor. Tim has been the owner of Tim's Car Wash and Detail Shop in Canonsburg, PA for 17 years and is the inventor of The Cobra System.
With 20+ years of experience as a machinist, Tim began to work on wheel and tire wash equipment to improve wheel cleaning, his car wash's chemical control and cost, with more accuracy along with reducing his payroll. He has always said, "You can have the best worker in the world, but if you get equipment that performs the same task with consistently better quality, that's ultimately what you're going to want". Since Taylor began using his creation at his site, he can now process 1,000 cars a day, up from 500 and eliminate four workers from his line.
At The Cobra System, we are committed to helping other owners and operators achieve better results while reducing their costs. We work with customers one-on-one from start to finish making sure they benefit from The Cobra System's unique heated chemical applicators!